Firefly has landed in KK and is ready to offer you incredible value with lowest fares
Firefly has landed in KK and is ready to offer you incredible value with lowest fares
24 January 2011
Sepang: Firefly, Your Community Airline, celebrated its new Kuala Lumpur-Kota Kinabalu route today at the Main Terminal Building, KL International Airport with an air of festivity as Firefly staff handed out mystery gifts to anyone in the departure hall who had the color orange on the outfits they were wearing.
To kick-start the celebrations, Firefly's Head of Marketing & Communications led a team of Firefly staff to send off flight FY514 which included the event celebration guests; members of the digital and print media, local and international press; Miss Tourism Malaysia Queen International 2009 -Miss Cassandra Patrick, Chairman of Malaysia Airlines - Tan Sri Dr. Munir Majid, Managing Director of Firefly - Dato' Eddy Leong and of course paying passengers. During the flight, limited edition postcards and stamps to mark Firefly's new fleet of aircraft Boeing 737-800 were also handed out to passengers as keepsakes of the celebrations. At 3.50pm FY514 landed as scheduled at Terminal 1 of Kota Kinabalu International Airport to a warm welcome that included a water spraying guard-of-honour, upon touchdown.
On the tarmac to greet the flight were the Chief Minister of Sabah -Datuk Seri Musa Haji Aman, and Minister of Tourism, Environment & Culture - Datuk Masidi Manjun, who welcomed passengers with garlands and Firefly goodie bags.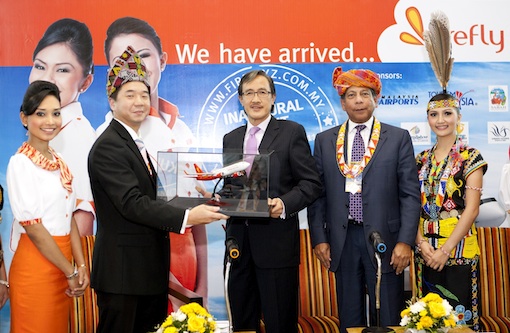 From left) Firefly's Managing Director, Dato' Eddy Leong presenting a momento to YB Datuk Masidi Manjun, Minister of Tourism, Culture and Environment, Sabah. Also present was YBhg Tan Sri Munir Majid, Chairman of Malaysia Airlines.
The inaugural flight from Kuala Lumpur bound for Kota Kinabalu actually DEPARTED on 15 January, 2011 marking Firefly's first docking into Terminal 1 of Kota Kinabalu International Airport.
Firefly celebrated its entrance into Sabah today, 24 January, to mark the introduction of an additional third daily flight to between Kuala Lumpur and Kota Kinabalu with seats priced at the lowest fares. To enjoy these lowest fares, passengers would have to book their seats early.
According to Dato' Eddy Leong, the business strategy of offering incredible value at lowest fares is to penetrate the value-conscious market, which is more price-sensitive: "Since Firefly began operations more than three years ago, business and leisure travellers alike have enjoyed flying on our ATR aircraft across the region. Now, Firefly's customers will be able to enjoy the same level of booking convenience, comfort and superior service at low fares on the Boeing 737-800 aircraft. The low fares signify our commitment to serve discerning passengers who want good value for their money.
"Additionally, our three daily flights and codeshare agreement with Malaysia Airlines will complement and enhance our parent company's current connectivity into Kota Kinabalu. We're able to do this because of our incredible value with low fares and our high service level that MAS passengers are accustomed to from the full-service airlines. Now, both the cost-conscious and premium traveller will have a wholesome network and a wider choice with Firefly."
This sentiment is echoed by Tan Sri Dr. Munir Majid, Chairman of Malaysia Airlines: "Firefly's jet operations is positioned to meet the growing market of the low cost or value-conscious consumer preference model, supporting and strengthening Malaysia Airlines' continuous development of its 'hub-and-spoke' to improve traffic flow. At the heart of it, Firefly plays a key role in complementing Malaysia Airlines' overall network, and helping the Group as a whole explore new business opportunities."
Firefly is able to offer low fares because of the savings in operational costs it enjoys. "We leverage on our parent company Malaysia Airlines' experience, infrastructure and core services such as ground operations and MRO (Maintenance, Repair and Overhaul) while the financial strengths and credit facilities enjoyed by MAS also brings benefits to Firefly. All the savings in operating costs derived from these benefits are passed back directly to the customer in the form of the lowest fares," explains Leong.
To ensure that Firefly's low fares are readily available to all, Firefly has enhanced its distribution channels by establishing more conveniently-situated airport and city ticketing offices. Since November 8, when we launched the Kuala Lumpur-Kuching and Kuala Lumpur-Kota Kinabalu routes, Firefly has opened three new airport ticketing offices, including the one at KL International Airport, and two new city ticketing offices.
Additionally there are plans to open another five airport ticketing offices to support its expansion plans. We will also continue to work closely with travel agents to ensure more travellers get the opportunity to experience incredible value with Firefly. In 2010, Firefly flew 1.35 million passengers and it is projected to fly three million passengers in 2011 with the introduction of the Boeing 737-800 fleet together with an increase in the ATR fleet to 10 aircraft.
Firefly currently offers three daily flights between Kuala Lumpur and Kota Kinabalu departing at 6.55am, 1.05pm and 7.15 pm while flights from Kota Kinabalu depart at 10am, 4.10pm and 10.20pm. All Firefly flights to Kota Kinabalu will arrive and depart at Terminal 1 of the Kota Kinabalu International Airport.
Background on Firefly
Firefly began its operations in 2007 and operates a fleet of seven ATR 72-500 turboprop aircraft, which in 2011 will increase to a total of 10 aircraft. It currently flies to 19 cities and operates 24 routes within Malaysia, Thailand, Indonesia and Singapore.
Firefly recently announced the next chapter of its growth with the introduction of its jet aircraft operations with a new fleet of Boeing 737-800 which will operate from the Main Terminal Building of Kuala Lumpur International Airport (KLIA) starting Jan 2011.
Firefly won the "2010 Frost & Sullivan Value Airline of the Year" award and recently the "Green Initiative of the Year 2010" award by Leaders in Aviation Award in conjunction with the Doha Aviation Summit 2010.
Firefly is found to be the first company in Malaysia and the second airline in the world to have a page on Foursquare, the location-based social network that enables travellers to discover useful travel tips near their airports or destinations. For more interesting facts and tips, visit http://foursquare.com/flyfirefly to meet up with friends, discover new places and unlock rewards as you travel. Firefly also connects with the community via Facebook, Twitter & Blog.
Sponsors to thank
Malaysia Airports Holdings Berhad, Tourism Malaysia, Sabah Tourism Board, Grand Borneo Hotel Sabah, Straits Central Travel & Tours, Delfi Marketing Sdn Bhd, Kenko Reflexology & Fish Spa, MASwings and KL Airport Service Sdn Bhd.